Adobe PDF e-Forms Development and Integration
HarperBurnham & Associates provides development and integration services for Adobe e-Forms for corporate work flows.
HarperBurnham & Associates develops end user forms that are dynamic and can be used to populate database content or extract content from existing database structures and populate new forms on the fly.
We use Adobe Acrobat Pro and Adobe LiveCycle Designer to carry out our development work.
Call us at 1-877-246-3436 and see how we can be of service to you.
Form Example below is our own Online Registration Form in PDF format.
Past Clients:
Perdue Pharma
Toronto District School Board
Adobe Training Register
1-877-246-3436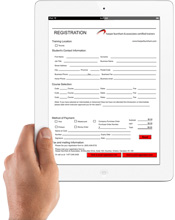 Click to Follow Us for course news, discounts and tips and information
Adobe Training Schedule
Onsite Training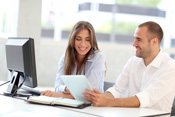 Adobe Training Request: Private Onsite or Private Online Training Quotation
Request Onsite/Online Private Training Quotation